Balloon Twister in Regina
Animals, Sculpture, Parties,
Community Events in Saskatchewan
That's FunTAZ®Shtick!

Are you looking for a Balloon Twister in Regina?
FunTAZM does Balloon Twisting and Sculpture all over Saskatchewan!

Let's make a jungle come alive... balloon style!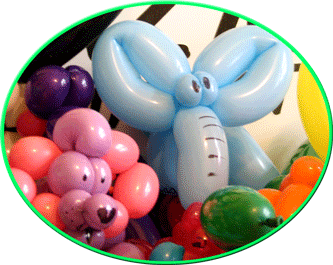 Twisting a wonderful array of balloon animals, birds, and insects, wearable balloon hats and arm bands, and creating memorable balloon sculptures for your event or party.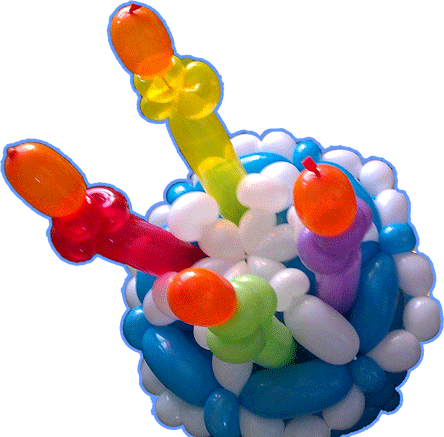 Twisted Balloon animals include a variety of cats, dogs, horses, dolphins, giraffes, elephants, moose, mice, monkeys, squirrels, crocodiles, dinosaurs, birds, and more.

We also twist pirate sabres, sweet smelling flowers and butterflies, or wearable balloon hats!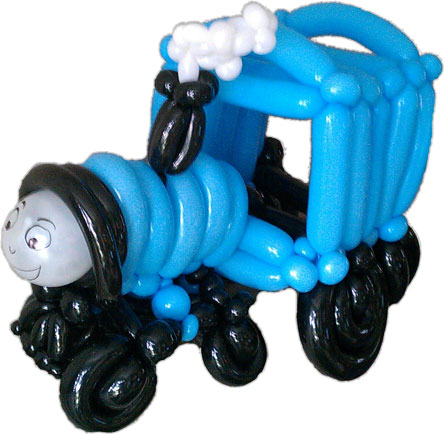 Balloon Twisting is booked by the hour for your community event, or at a base rate for Birthday Parties. Whatever the occasion, Balloon Twisting with FunTAZM is your sure bet for your next birthday party or community event in Saskatchewan! Give us a call or drop us a line - we'd love to make your next event FunTAZMemorable!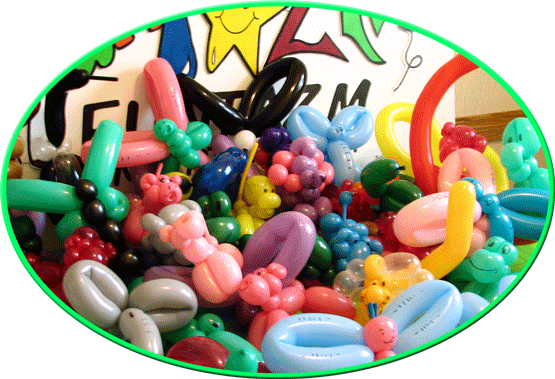 Recent 2013 Comment Cards
Names Used with Permission.
* She has such a positive presence... my kids kept wanting to talk to her! Lovely.
* Balloons were awesome. You were great interacting with the kids. This made the kids' party. Thanks from Grandma – Lorraine Cross
* Dawn was awesome. Would love to have her at another event. – Denise Keeper
* Friendly, charming, entertaining, polite, the most fun I've had in a long time.
* So personal! Great personality – Angela Prokopetz
* Very entertaining
* Friendly lady. My daughter loved watching her at work
* FANTASTIC – KIDS REALLY ENJOYED – Enthusiastic, good with kids
* EXCELLENT ENTERTAINMENT
* Highly recommend to friends
* Awesome dealing with kids. Made a point to reassure kids she would get to them. Awesome job! - Sarah Martin
* Dawn was AMAZING! Great rapport with the kids!
* Excellent with the kids – made the party!
* We loved your humour and we haven't seen them sit that still for a long time! – Brenda Jamieson
* Dawn is FANTASTIC!! Very passionate about what she does! Friendly & lovely. A Great Mother's Day! – Karen Wiome
* Amazing job! There is nothing you can't do!
* Very Friendly. Our Son liked her right away
* Fantastic at design and made the birthday girl very happy!
* Great fun! So quick & creative! Nice work
* Awesome! Friendly, great with adults and children.
* FANTASTIC! KIDS LOVED IT!
* Great Attitude & effort with each child 
* Very good with the kids. Very aware of kids behaviour and what works best for them. Quick process. – Amanda Langford
* Very friendly, outgoing. Good with the children.
* The balloon lady was very fun/entertaining! Funny with both adults & children! Thank you!
* Very friendly and patient. Excellent.
Balloon Twisting FAQ's
How many balloon creations can you make in one hour?

Some creations that consist of one balloon only take a mere 1 to 2 minutes. We do not like to do those as much, as we prefer to make 2+ balloon creations that take a bit longer (3 to 5 minutes per) but delight your crowd that much more! At community events, our Balloon Twister will bring our menu board to determine the best choices for the number of people you have. At smaller parties, we are able to make creations that are more extensive since the number of children is lower. That's also why when we charge you our Birthday Party Rate, it is a flat rate for up to 12 children - not per hour when who knows how long that will take?!?


Do you serve areas outside Regina?

Of course! We would love to travel to wherever you are in Saskatchewan. Depending on how many hours you have us at your event or how far from Regina you are, travel fees may be included. Our office will let you know at the time of your booking.


How do I book you for my upcoming event?

Simply phone our office and we will be happy to book your upcoming party entertainment. You can reach us most days Toll Free at 1-866-FUN-TAZM. If we are out of the office entertaining someone, you can leave us a message on voicemail or via email to info@funtazm.com


Why should I hire you?

We all want your party to be AWESOME! When you hire someone who entertains for a living, like we do, you are getting a level of service and quality that is only offered by professionals. We never sit down on the job, we wear long sleeves, and we are fully registered, licensed, and insured business. We pride ourselves on giving you quality service with a smile and have been doing so as professionals for over two decades. You can't have a special occasion do-over, so we help you get it right the first time!
Live Entertainment for Children