Face Painters in Regina
That's FunTAZ®Schtick!
We are a member of Canadian Face and Body Art Professionals!(CAFABA)

Recent 2013 Comment Cards
Names Used with Permission.
* She has such a positive presence... my kids kept wanting to talk to her! Lovely.
* Balloons were awesome. You were great interacting with the kids. This made the kids' party. Thanks from Grandma – Lorraine Cross
* Dawn was awesome. Would love to have her at another event. – Denise Keeper
* Friendly, charming, entertaining, polite, the most fun I've had in a long time.
* So personal! Great personality – Angela Prokopetz
* Very entertaining
* Friendly lady. My daughter loved watching her at work
* FANTASTIC – KIDS REALLY ENJOYED – Enthusiastic, good with kids
* EXCELLENT ENTERTAINMENT
* Highly recommend to friends
* Awesome dealing with kids. Made a point to reassure kids she would get to them. Awesome job! - Sarah Martin
* Dawn was AMAZING! Great rapport with the kids!
* Excellent with the kids – made the party!
* We loved your humour and we haven't seen them sit that still for a long time! – Brenda Jamieson
* Dawn is FANTASTIC!! Very passionate about what she does! Friendly & lovely. A Great Mother's Day! – Karen Wiome
* Amazing job! There is nothing you can't do!
* Very Friendly. Our Son liked her right away
* Fantastic at design and made the birthday girl very happy!
* Great fun! So quick & creative! Nice work
* Awesome! Friendly, great with adults and children.
* FANTASTIC! KIDS LOVED IT!
* Great Attitude & effort with each child 
* Very good with the kids. Very aware of kids behaviour and what works best for them. Quick process. – Amanda Langford
* Very friendly, outgoing. Good with the children.
* The balloon lady was very fun/entertaining! Funny with both adults & children! Thank you!
* Very friendly and patient. Excellent.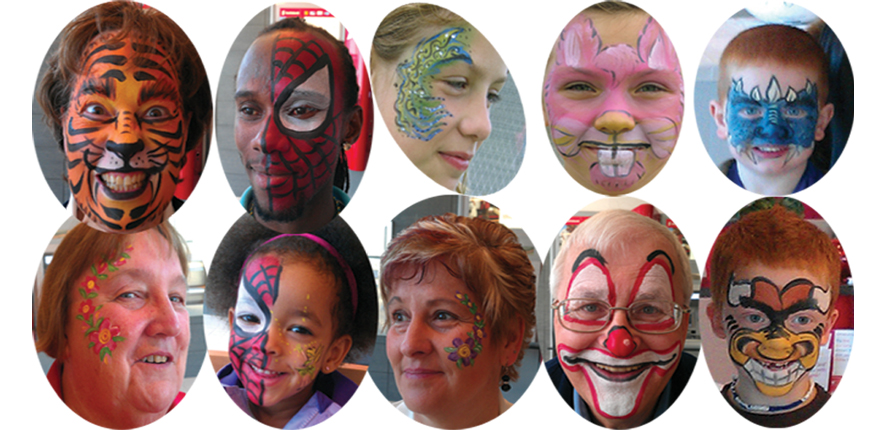 All photos taken are from actual events and used with permission.
Are you looking for Face Painters in Regina or somewhere in Saskatchewan? Call FunTAZM for quick, professional, and reliable service.
Create a zoo of wild animals, have some scary characters visit, and then invite some superheroes to save the day! Here at FunTAZM, we take a bit of a different approach to Face Painting. While we are very aware that there is always a line-up for a face painters at any event, we want your child to feel special and cherished for the few minutes we get to spend with them. Everyone deserves to feel special.
ANIMAL FACES: tiger, lion, cat, dog, zebra, leopard, rabbit, mouse, more...
SCARY FACES: grim reaper/skeleton, ghost, vampire, wolves, zombie, witch,...
OTHER FACES & MOTIFS: butterfly, dinosaur, princess, pirate, dolphin motif, flower motif, clown, harlequin/mime, sun and moon motif, earth day motif,...
SUPERHERO LOOK-A-LIKES: Spider-type Man, Bat-type Man, Hulk-type Man, Ninja-like Turtles, Iron-type Man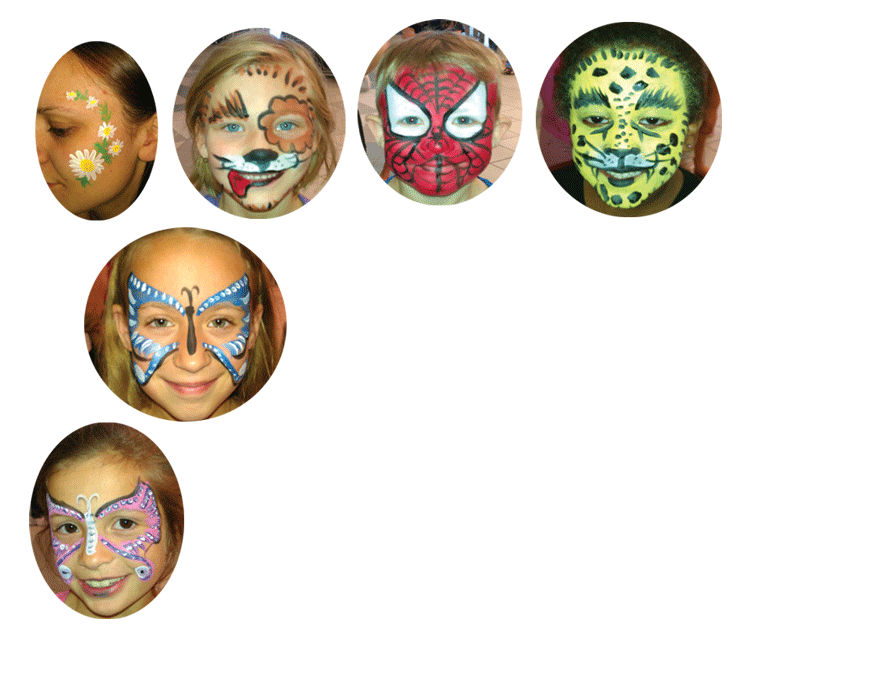 FACE PAINTING AT SPECIAL & COMMUNITY EVENTS
(one or more face painters):

FunTAZMic Face Painting is about creating the faces you want as quickly as possible. While there will still be a wait as there always is for face painters, our trained staff pride themselves in doing a good job for your child to make the wait worthwhile!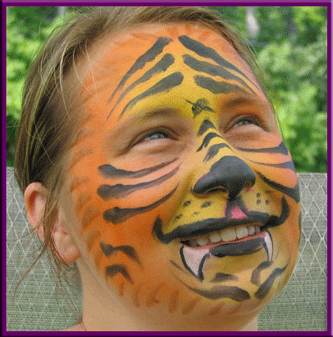 FACE PAINTING AT BIRTHDAY PARTIES
(one face-painter):
FunTAZMic Face Painting is about creating the faces you want while spending quality time with your child. Our face painters don't just rush through the line-up but take the time to chat with each child while painting to create a more special moment.
FAQ's About Face Painting
Q. How many faces can you paint in one hour?
A. One face painter can do a great job of 10 to 12 faces per hour, depending on the requests.
Q.How long have you been painting faces for parties and special events?
A. We started our face painting service about 3 years ago when the Royal Saskatchewan Museum asked for Dawn specifically to come out and do some face painting. Since then, we have trained more face painters to handle how popular we have become!
Q. What is the most common request from children for face paint?
A. Girls love butterflies and boys love superheroes and dragons. We always get a lot of requests for wild cats and motifs - we love them all!
OTHER BIRTHDAY PARTIES AND SPECIALTY STAGE SHOWS