FunTAZ®cience Experiments
Hands-on Tables
For Children & Students
That's FunTAZTIC!

FunTAZM & SaskPower Event a HUGE HIT!
On October 20th, FunTAZM and Saskpower held a science event for Grade 3 students from 7 of our local elementary schools and it was a BLAST! The Conexus Arts Centre was buzzing with electricity (literally), magnetics, molecules, and more for 8 hands-on tables and 2 FunTAZ®cience Stage Shows. Nothing but rave reviews from students and teachers alike.
You can't go wrong hiring FunTAZ®cience to 'edutain' your students or youngsters in your community. Adults love it, too!
Read more about the FunTAZ®cience Stage Show.


FunTAZ®cience Hands-On Experiment Tables
Looking for some Hands-On Science Experiments for your students or community event?

Here at FunTAZ®cience, fun is all part of the name and we want to get children and students excited about science experiments! That's why we also offer exciting FunTAZ®cience Hands-On Experimenting Tables, where the children can try out a variety of hands-on experiments that explore different concepts, including but not limited to:
Electricity





Magnets





Environmental Awareness





Chemistry





States of Matter





The 5 Senses





Physics





Density




Tables are set up in the area of your choice and are supervised by FunTAZM Silly Scientists or volunteer supervisors from your group. Children can approach tables at their leisure, or be organized into groups that switch at timed intervals (great for schools!). After learning about the science concept at each table, students can then give it a try to see for themselves! It's hands-on fun for everyone!
Contact us today to find out how we can be part of your event. We aim to please and want to make science FUNTAZTIC!
General FunTAZ®cience Silly Science Info
Tired of the same old group entertainment in your community?

Doing the same thing every year for your child's birthday party
and don't know what else to try?!?

Are you in charge of finding children's entertainment for your corporate event?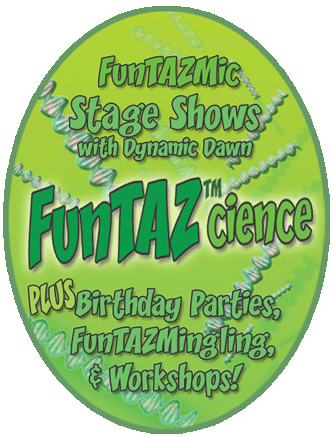 Look no further! Hire a Silly Scientist to lead you through some exciting demonstrations and hands-on experiments for everyone as we learn more about science and how it is present in the world around us. The children in the audience will come away with an education as well as the big smiles on their faces.
All of our FunTAZ®cience Shows and Parties are high energy, interactive, and involve volunteers and hands-on science for everyone to try!
PLUS:

We come to you.
We bring our own equipment.
We emphasize safety and adult supervision.
If you need some unique entertainment on a small or large scale, go for something different. Go for something that will have you laughing AND learning.

Hire a Silly Scientist!
** At least one adult from your group must be present for all parties and events.
More FunTAZ®cience Silly Science Entertainment & Workshops
Follow the title link for more information on: