Dawn Alexis as
Pemmican Pearl
That's FunTAZ®Music!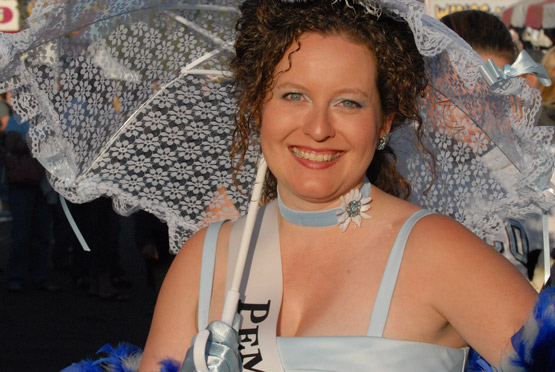 Dawn Alexis as Pemmican Pearl
Buffalo Days Parade
Pemmican Pearl has long been a tradition at the Buffalo Days Provincial Exhibition and in 2006 and 2007, Dawn Alexis had the opportunity to delight audiences with not only her powerful vocal renditions of popular songs from the past 8 decades, but also her diplomacy and ambassadorial nature to welcome young and old alike to the fair.
In 2006, the Pemmican Pearl Band enjoyed new members than ever before, including Kelly Malloy on drums and Dan Flaman on guitar. The songlist included some great classic rock, which was very popular with the audience at the fair and something that was not common for past Pearls to endeavour.
The 2007 contract changed the long tradition of having a Pemmican Pearl Band when Dawn was asked to do all of ther performances to tracks instead of having a live band. This did not slow Dawn down, however, and she continued to amaze audiences with her versatility and style, her friendliness and her flair, and most of all, her professionalism.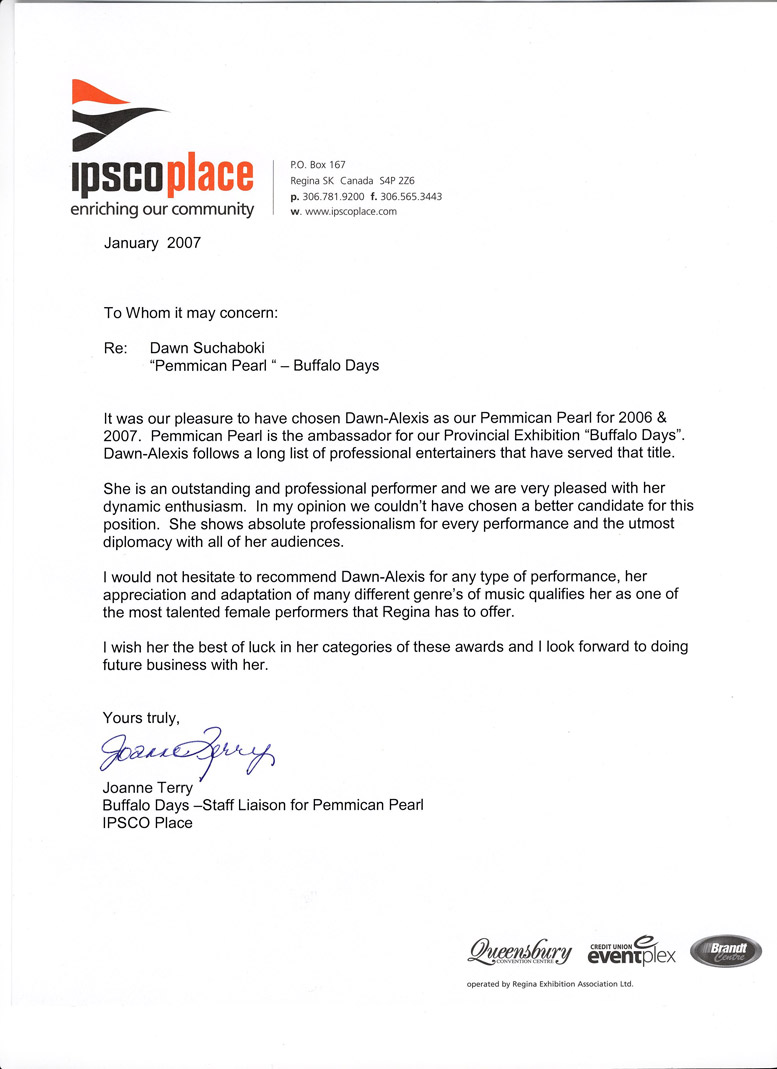 Ipsco Place on working with Dawn as Pemmican Pearl
Right click on image and choose "View Image" for readable size.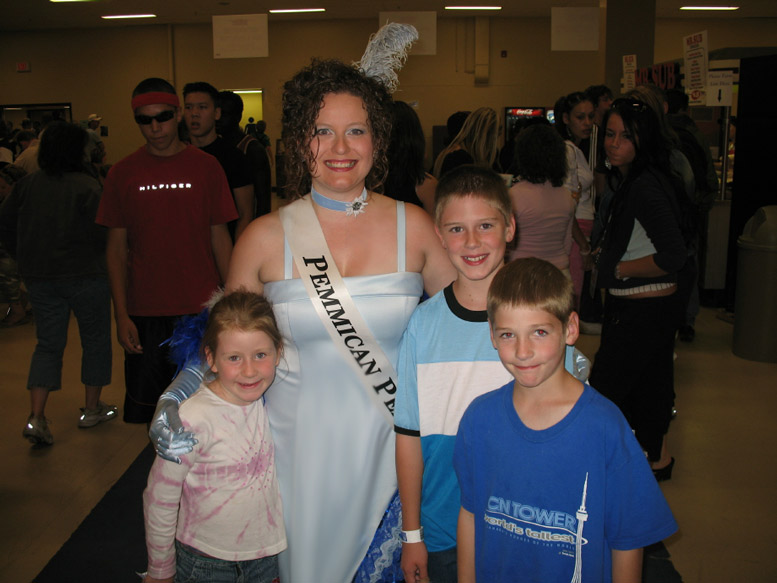 Pemmican Pearl Dawn Alexis with Fans
Photo provided by the parent
FunTAZ®Music Links
Take me to...
COMING SOON: Photo Gallery of past Music Performances!
Music Performance History: Dawn Alexis
Despite her small stature, this powerhouse performer will surprise you with the strength and precision of her vocals. Exuding a wonderful stage presence, Dawn Alexis commands her three-octave range with a remarkable agility and an unfailing sense of swing.
Born the fifth of seven children, Dawn Alexis Suchoboki began her professional career fresh out of high school with 3 years of full time work in musical revue and improvised comedy, performing popular tunes such as "Lion Sleeps Tonight", "Proud Mary" (Tina Turner), "Midnight Train To Georgia", and several Aretha Franklin greats ("Chain of Fools", "Think", "Respect", "House that Jack Built"). As a triple threat, she quickly became an in-demand performer, sought after for her powerful vocal performances, comedic timing, and skill as a dancer and choreographer. In a professional career that spans over 18 years, Dawn has delivered unforgettable renditions of songs in all styles of music and toured extensively in mid and western Canada.
Embarking on a solo career as a vocalist while in Edmonton, Dawn formed the Dawn Suchoboki Trio (with bass and piano) and after moving to Regina in late 1999, initiated and hosted a weekly jazz jam at Jesse's House of Blues, where she met many local musicians and formed Jazz D'Alexis. This jazz ensemble ranges in size from trio (piano, bass, and vocals) to a ten-piece ensemble, playing favourite classics as well as her own original compositions.
Dawn Alexis made a mark as a composer, lyricist, and arranger with her debut CD album entitled "Such-A-Bouquet", spanning a variety of musical genres (mostly jazz, swing and Latin rhythms) to include funk, a march, and even a lullaby. All 17 tracks were written and arranged entirely by Dawn Alexis, who was also the sole producer on the album. "Such-A-Bouquet" was engineered by the 2005 WCMA Engineer of the Year John Gasparic, and mastered by Phil Demetro at Lacquer Channel Mastering in Toronto.
Due in large part to her velvet voice and fantastic stage presence, Dawn has succeeded in attracting a large non-jazz following, with many fans voicing their affinity for "Dawn's jazz" above others. She has made frequent appearances at the Casino Regina Show Lounge and numerous high-profile corporate events, and continues to gain acclaim for her expressive and smooth delivery of great music. Dawn Alexis remains a powerhouse performer and producer with a growing list of credits in live music, theatre, and improvised comedy.
Such-A-Bouquet (Autumn of 2005) Album Listing
Several songs have enjoyed radio airplay on CBC across Canada, CJTR (Regina), Magic 98.3 FM (Saskatoon), CFCR (Saskatoon), and university stations. The album was produced by Dawn Suchoboki of FunTAZM Entertainment and all music, lyrics, and arrangements were written by Dawn Alexis.
Purchase your copy of this album for all the insider info!
Whatever You Want (Intro Version)
BAberaham Lincoln
Don't You Fret
When Will You Write
The Foreboding
Please Don't Make Me Go
Goin' the Wrong Way
I'm Running Away
Hey, Stranger
Madness
Girl With A Curl
Outgrown
Auntie Dawn's Lullaby
(Can't Get You) Outta My Head
Whatever You Want (Babe, You Got It)
Such A Bouquet (Love Song)
Looking Up
Total Running Time: 60:19
Live Entertainment for Adults
Live Entertainment for Children