FunTAZ®cience Shows
A Great Alternative to Magicians
That's
FunTAZ®Schtick!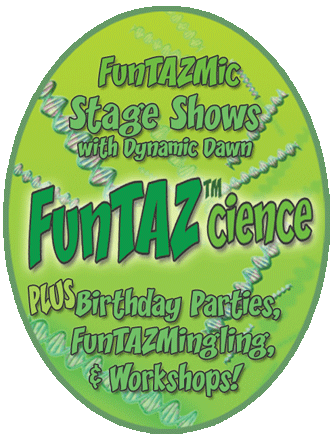 FunTAZ® Stage Shows and Birthday Parties are a great alternative to magicians. All of our shows actually start with a magic trick as we explain that a lot of things that look like magic can be explained with science. But don't worry - we reassure the audience that there is still plenty of magic around.
Our Special Events are specially designed for a larger crowd and involve exciting demonstrations with interactive experiments that the whole audience can try! Try our Santa Science Event during the holidays, or the Silly Science Event any time of year. And if you really want something cool, how about some Spooky Science, just right for the Halloween season.
Special Events are the most suitable for ages 4 through 12, but the adults enjoy it, too! Time frames are from 45 - 60 minutes in length.
Click here to read about FunTAZ®cience Birthday Parties
FunTAZ®cience Show
Want a FunTAZTIC Stage Show for an audience with children and adults? Look no further, cause you've found one!
Dynamic Dawn will conduct larger scale interactive experiments that require volunteers, so raise your hands high! This event works great indoors, outdoors, or in a room with a high ceiling(so we can really 'raise the roof'!)
A Special Event is just the thing to entertain a larger group for your office party, community event, science fair, school assembly, and the list goes on!
FunTAZtic Rocket Launch Add-on
When there's no snow on the ground, why not add-on a Rocket Launch for the crowd! Learn about the stages of flight as Dynamic Dawn starts with the launch of a small Gnome rocket, and then takes it higher with a larger rocket and more power! Some Restrictions Apply.
Spooky FunTAZ®Mystery Science
Stage Show or Party
For the Halloween Season, try a Spooky Science show, where we will have fun experimenting with everyone's favourite bubbling potion effect: Dry Ice! Combining demonstrations with hands-on fun, this show is sure to please!
Spooky Science can be presented as a larger Special Event, or at your private party for a smaller group.
FunTAZ®Santa Science
Holiday Season Stage Show
With our Santa Science Special Event, we will demonstrate different scientific principles that support the existence of Santa Claus as we know him. How does he make his reindeer fly? How does he get up and down the chimney? Let Dynamic Dawn show you how in this customized event for the holiday season! Bookings for this event fill up fast, so call at any time of year!
Other Children's Entertainment:
General FunTAZ®cience Info
Tired of the same old group entertainment in your community?

Doing the same thing every year for your child's birthday party
and don't know what else to try?!?

Are you in charge of finding children's entertainment for your corporate event?
Look no further! Hire a Silly Scientist to lead you through some exciting demonstrations and hands-on experiments for everyone as we learn more about science and how it is present in the world around us. The children in the audience will come away with an education as well as the big smiles on their faces.
All of our FunTAZ®cience Shows and Parties are high energy, interactive, and involve volunteers and hands-on science for everyone to try!
PLUS:

We come to you.
We bring our own equipment.
We emphasize safety and adult supervision.
If you need some unique entertainment on a small or large scale, go for something different. Go for something that will have you laughing AND learning.

Hire a Silly Scientist!
** At least one adult from your group must be present for all parties and events.
FunTAZ®cience Options
Follow the title link for more information on: